EML Viewer Pro is the advanced viewer for managing your .eml files. Whether you have a directory with 1 or 10,000 .eml files, EML Viewer Pro lets you view, search, print, copy and export Email files.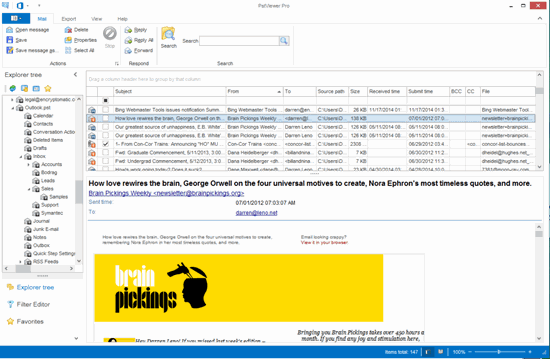 Download a Free 15 Day Free Trial of EmlViewer Pro
Requires Microsoft Windows 10/8/7/Vista, .NET Framework 4.5 or later. Contact us for installation and uninstall support.
EML Viewer Pro is the single Windows app you need to view, search, print and convert .eml (RFC-822) formatted email files. It also lets you manage other email content, including Outlook .MSG, .PST, .MHT, .OST and Winmail.Dat files.
EML Viewer Pro organizes a folder of .EML files and displays them in a sortable list. You can then browse or search through hundreds (even thousands) of .EML files for those important emails. Using your favorite email client, such as Outlook, you can Reply, Reply All or Forward email messages.
Export your EML files to PDF and other useful formats, including MHT, HTML, CSV (Excel), JPG, GIF, TIF, BMP, and others.
Extract or Open File Attachments from .EML Files
Eml Viewer Pro makes it easy to access file attachments in .eml files. By clicking on the attachment in EmlViewer, users can either run the attachment in its native application (i/e open a .zip file in WinZip, or .pdf file in Adobe Reader), or they can extract the file to a directory of their choice.
The "Message" tab shows you the email message, rendering full html or RTF detail, so you see how it appeared in the email client.
Eml Viewer Pro provides access to the internet header information.
Search Your .eml Files
Eml Viewer Pro lets you search a directory of .eml files, and then easily browse the files that meet your search criteria.
Why You'll Love EmlViewer Pro
Accurate Email Rendering

Display complex formatted .EML and .MSG email messages. View emails in their original html or rich text formatting.
Customizable Export Profiles
We want to make your work with email faster and easier. That's why you can customize the many different settings in the export profiles, such as naming schemes, page sizes, and more.
Cost Effective
EML Viewer Pro is seven email viewers in one. Manage EML, OST, PST, MSG, MHT, MBOX, and Winmail.Dat email files with one Windows application.
Search EML Files
Advanced search functions can scour a folder filled with EML files and find the emails that you want.
Proven
Encryptomatic LLC has been building email viewers since 2006. Choose the leader who is trusted by governments and Fortune 100 companies worldwide.
Support and Guarantee
Have a question or a problem? Contact our support team for the answers you need. No Risk 30 day money back guarantee!